Wedding Day Vibes Dress (sadly out of stock)
It can be tricky to pick bridal shower dresses, simply because there are so few rules about what to wear. We all bitch about etiquette, but the great part about it is that it gives you a reasonably clear set of rules to follow (or chose to break intentionally). Wear this, do this… or hey, I don't like those rules so I'm not gonna follow them.
But when it comes to bridal showers, there are not a ton of rules (and there are many kinds of showers), so figuring out what to do and how to dress, can be really hard. Bridal showers vary from casual backyard gatherings, to large, formal shindigs (I've been to both, and more besides). So when it comes to finding bridal shower dresses, you have to figure out a few things first:
How formal is the shower? (Ask yourself: Where is it being held? What time of day is it? How many people are coming?)
What's the crowd? (You probably act and dress differently with your fifty-year-old aunties, than you do with your co-workers or life-long BFFs.)
What's the general vibe of the party? (I had a book shower and dive bar in New York City party, and a politely open gifts in front of my husband's family party… and I wore very different bridal shower dresses, trust me.)
Once you've asked yourself those questions, you also just have to figure out what you feel comfortable in and what you want to wear. Lots of people choose to wear a white engagement dress, because it's one extra day that you can stand out and feel like a bride. But that is in no way mandatory. Polling our office, nobody wore white to their bridal shower (in fact, one of us wore leopard print). Which brings me to our very important poll. What are you / did you/ would you wear to your bridal shower? THE PEOPLE NEED TO KNOW.
Pending the results of our Super Scientific Survey, I've tried to keep it flexible. I've included a lot of white engagement dresses, and a fair amount of lighter summery prints (OKAY FINE, and some brights, because I think they're the prettiest). While I'm assuming most bridal showers are daytime affairs, I have tucked in a few slightly more formal options, just in case. Plus, some rompers, in case your best girlfriends throw you the coolest shower of all time. I tried to cover a variety of price points for bridal shower dresses, assuming that you're probably not going to spend a fortune on this one (but giving you a few killer options just in case you are).
Pro-Tip: I included a really good sampling of dresses from Rent the Runway, partially because their daytime dress department is on fire right now, but mostly because bridal showers are the perfect occasion to rent a nicer-than-you'd-normally-buy-and-don't-really-need-in-your-closet kind of dress. Also, because I personally always forget renting is an option till it's too late, and then kick myself.
Let's do this thing.Would you wear white to a bridal shower?
White engagement Dresses
Lace Evening Dress with Pleated Skirt, Plus Sizes ($169.90)
Defining Divine Midi Dress, available in Plus Sizes ($150)
Cold Shoulder Pleated A-Line Dress, Plus Sizes ($99.90)
Cold Shoulder Lace Shift Dress ($149)
Time and Grace Lace Dress, available in Plus Sizes ($99.99)
Memphis Dress ($270)
Trumpet Sleeve Romper, Plus Sizes ($128)
Tiered Off-the-Shoulder Eyelet Dress, available in Petite Sizes ($438)
Lace Ruffle Sleeve Off the Shoulder Dress, Plus Sizes ($129.90)
Lily Pond Fit & Flare Dress ($128)
Tatiana Off the Shoulder Dress ($140)
Beaded Sands Swing Dress, available in Petite Sizes ($228)
Studio Off the Shoulder Double Ruffle Gown, Plus Sizes ($154.90)
Lace Trim Slipdress ($100)
Embroidered Midi Dress ($135)
Cold-Shoulder Tiered Maxi Dress ($118)
Studio Eyelet Off the Shoulder Dress, Plus Sizes ($139.90)
Tea Room Dress ($180)
Crochet Trim Maxi Dress ($105)
Studio Flounce Tiered Dress, Plus Sizes ($134.90)
Non-White Bridal Shower Dresses
John Zack Plus Ruffle Shoulder Floral Maxi Dress, Plus Sizes ($87)
Purposefully Piquant Midi Dress, includes Plus Sizes ($119.99)
ASOS CURVE Floral Ruffle Prom Midi Dress, Plus Sizes ($135)

Leslie Geo Tunic Dress, available in Petite Sizes ($198)
Tie Waist Halter Dress, Plus Sizes ($149.90)
Little Mistress Plus Floral Printed Skater Dress with Fluted Sleeve, Plus Sizes ($108)
Surplice Midi Dress ($75)
Embroidered Sundress ($328)
Little Mistress Plus Maxi Dress with Lace Shoulder ($127)
Inesse V-Neck Chiffon Gown, available in some Plus Sizes ($290)
Embroidered Maxi Dress with Tie Waist ($214)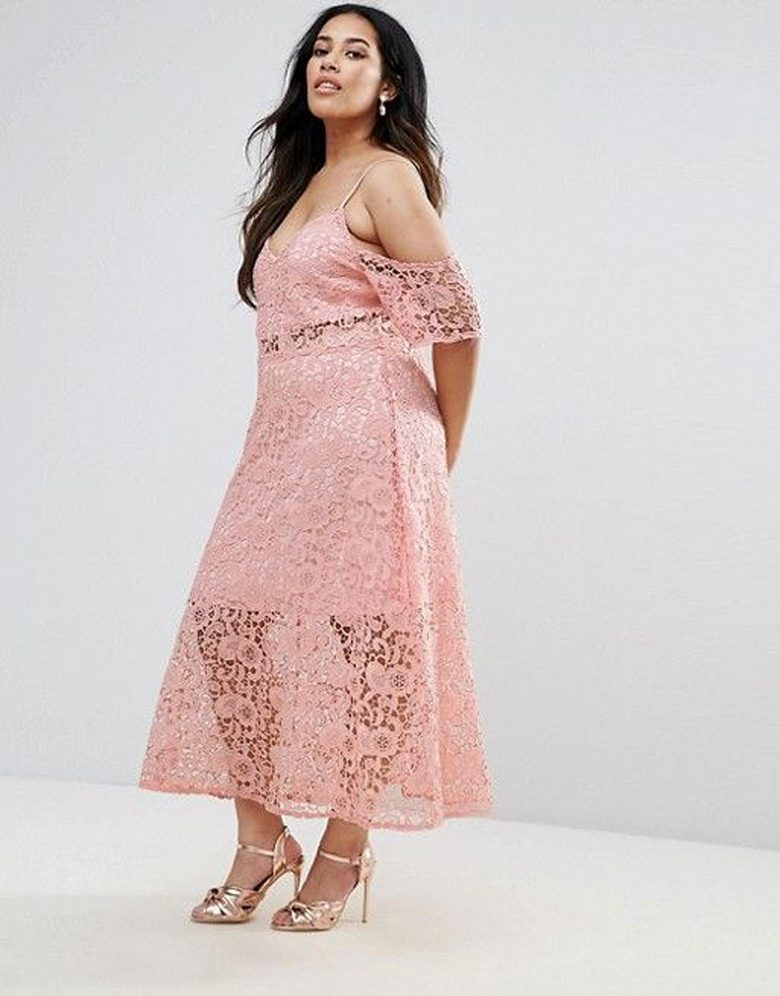 Boohoo Plus Lace Overlay Cami Dress, Plus Sizes ($56)
Contrast Hem Maxi Dress ($35)
Tie Front Midi Dress ($49)
ASOS CURVE One Shoulder Floral Midi Dress, Plus Sizes ($103)
Colorful on Cue A-Line Dress ($99.99)
Rental Bridal Shower Dresses
Waleska Printed Chiffon Slip Maxi, available in Petite Sizes ($90–$105, Rental)
Floral Painted Drop Waist Dress ($50–$65, Rental)
Derek Dress ($30–$55, Rental)
Floral Mariana Dress ($120–$135, Rental)
Pennie Dress, available in Long ($55–$90, Rental)
Flora Stone Tie Front Maxi Dress, available in some Petite Sizes ($70–$85, Rental)
Peony Ruffle Off Shoulder Shift ($45–$80, Rental)
Ola Pleated Dress ($65–$80, Rental)
Spring Stripe Dress ($30–$50, Rental)
Stripe Pleated Cami Dress ($80–$100, Rental)
Purple Verona Dress ($50–$70, Rental)
The post 49 Stunning Bridal Shower Dresses to Make You Shine appeared first on A Practical Wedding: We're Your Wedding Planner. Wedding Ideas for Brides, Bridesmaids, Grooms, and More.